Jordan (JoJo) Rae Giles was born in Everett, Washington on January 17, 2015.

She was a healthy baby and weighed 8 pound 4 ounces and she was growing perfectly and hitting her milestones during her first year of life. She is very smart and learned to communicate using up to 56 different signs of sign language before she started to talk.

There were a few things that were slightly off; however, and they would only make sense 3 years later.

As an infant Jordan would have weeks of unexplained vomiting. When she was introduced to solids she would gag and throw up. She was very "floppy" and would seemingly feel as though she would slide through her parent's arms if they did not have a good grip on her. She would lose patches of her hair and have bald spots. She had unusual eye shaking movements. She would tremor a little in her hands and legs after waking up or when reaching for something.

At her one-year checkup she started to chart a little small and the doctor noticed the eye movement.

At her 18-month appointment is when the doctors really noticed that some things were just not "normal" for Jordan's growth and development.
In February 2018, after 2 years of tests, JoJo's family was told that she has Leigh Syndrome. It is a mitochondrial disease. It is a rare progressive degenerative disease. It can cause blindness, deafness, seizures, loss of mobility, loss of speech, enlarged heart, feeding problems, breathing problems, liver problems, kidney problems...and more...and has a typical life span of 2 to 3 years, although she has been given a median life span of 5.5 years.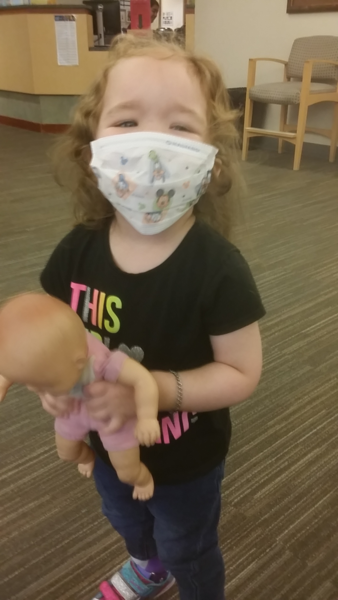 She is now 4 years old.

She was only the 17th ever in the world with her particular mutation. And only 3 (including her) are still alive.

JoJo has optic nerve atrophy, alopecia, ataxia, hypermobility joint disorder, nystagmus, hypotonia, and at least 7 brain lesions. She has to be seen at Seattle Children's Hospital every 6 months by biochemical genetics, neurodevelopment, endocrinology, cardiology, ophthalmology, nutrition specialists, physical therapists and speech therapists and attends a developmental preschool where she has a one on one para support assistance and receives braille classes, PT, orientation and mobility.

JoJo's dad, Donnie, and her mom Jessica, have always liked Harleys.

Her dad would have her listen to the different sounds of motorcycles and she would hear a Harley while driving down the road and start looking for it and get excited.
JoJo had little pink Minnie Mouse 4 wheeler that was her "bike." Last spring, only a couple of months after getting diagnosed with Leigh Syndrome, her mom suggested that maybe she could turn it into a Harley.

She decided she wanted to use her piggy bank money to get paint and stickers to make that happen so they ended up at "the Harley store" (Sound Harley Davidson) to get stickers for her bike.

Jessica explains, "While JoJo was there looking at all the shiny bikes, everyone was nice and friendly. I told Sound Harley's Rob about her "bike" and what we were doing and what we needed and he showed us to the stickers. I told him she was recently diagnosed with something that will shorten her life span and how we try to make everyday special for JoJo and if she wants me to turn her Minnie Mouse ride in to a Harley ride, that's what I was gonna do!"
"He then went out of his way and bought her some extra stickers for her new project." She goes on to add, "It was so sweet that he did that. He asked us to come back and show him when we were done. So, we came back the following Saturday to show him!"

"JoJo loved seeing the shiney bikes and counting the wheels and getting to hear the Harleys while we were there and Rob was very impressed with her "bike". That is kind of how it all started because after that JoJo just kept asking to go to the Harley store to count wheels and see the bikes. So, of course I was going to take her. Everytime we went, we got to know Rob better. We also just started making friends with everyone, since JoJo is so friendly!" shares Jessica.

Jessica explains, "Everyone has always been so kind! It was so surprising to be so welcomed there by everyone. She is a little toddler in a busy business, surrounded by thousands of dollars worth of merchandise and they were never rude or upset and never had a "get your kid your of here because she might break something expensive." type of attitude. This helped me be able to do for her, what she wanted to do."

With the probability of her short life - that was important to them.

"Jordan always wants to write thank you cards and draw pictures for her friends at the Sound Harley store. Then she started praying for her Harley friends every night," says Jessica.
"Rob was so generous and kind and bought JoJo a new Harley trike! It was bigger and better and more shiny than her first one! It also plays music!" explains Jessica. "Rob also set up a trick or treat special event for her to go visit all the departments to get candy. Just being able to come see Santa was a huge deal! Sarah, Big Dave, Frank, Hilary, Kim, Trish, Shauna, Mickey, Jackie, Aaron, Justin, Chad, Jen.. everyone just says hello and recognizes her and the kindness is a blessing!"
Jessica goes on to say "Rob has become her best friend and he spoils her! Sarah is fun to talk to. Big Dave and Frank make her smile! Mickey washes her Harley. Hilary is so sweet and has gotten JoJo some clothes and a necklace and she also helped JoJo get me a present!. Heather was awesome before she left. The "Jens" got her a new Harley Jacket. Just everyone's kindness. It's awesome. There is always someone going above and beyond at every visit!"
We at Sound Harley, along with the Puget Sound HOG Chapter #2053, were able to surprise JoJo last Saturday with fulfilling her dream of getting to go on and lead a ride with other Harley Riders.

The sun was out.
The sky was blue.
It was a perfect day to make a little girl's dream come true.

The HOG Chapter riders were already rolling in and prepping for their monthly 4th Saturday ride and while we are planning a full ride in JoJo's honor this year, we couldn't resist the opportunity to invite her to come down to the Sound Harley shop and do a lap around the building.
Sound Harley's Rob, Jen B. and Jen O. surprised JoJo with some balloons and a new Harley jacket for her first ride as our youngest Road Captain and the HOG members pushed their ride back an hour so she wouldn't feel rushed.
While JoJo was overjoyed to get to live her wish, watching the HOG riders faces fill with excitement and joy as she approached was incredibly beautiful. They had no idea that when they slid into their riding gear that morning, they were going to be helping make a wish come true for a little girl who is fighting for her life.
Jessica shares, "JoJo loved it! She was a little overwhelmed at first I think because it was all happening really fast and we usually are a little less fast when we come in for visits. She was so excited when I told her she was going to be able to ride in a group!"
JoJo gets fatigued easily and sometimes pushing the pedal on her Harley makes her little legs tired," she explains, "but she did awesome today and she loved the ride she got on the big trike too! Overall it was a truly amazing experience for her (and us). She was telling all her brothers and sisters , grandmas and grandpas, aunts and uncles, cousins and friends, that she got to ride in a group today! It was a dream come true for her."
"This little girl is a blessing to us. We are a blended family. I already had a daughter and son from a previous marriage and Donnie had a son and two daughters from previous relationships. We met and got married and agreed about no more kids! 5 was a lot! Five years later though, God had other plans for us. Jordan was a sweet little surprise. So we have 6 kids. Dallas, 19, Tyler, 18, Colton, 17, Haleigh, 16, Emma, 14, and Jordan, 4 !"

"God has designed her to be here, even if that ends up being for a short time. It is our job to trust in God's perfect plan and to just be thankful for each day.
No one is guaranteed tomorrow."

Jordan is a bright 4-year-old toddler that is caring and kind and happy. She doesn't really know what is happening to her and just wants to love on her babies, play with her puppy, spend time with her siblings, spend time with her parents. Jessica adds, "She loves to pray for and help other people. She has so much compassion for others. It's amazing how smart she is for 4!"

"We know God has a perfect plan for her whole life. He has a whole plan for our lives. He is the one in control of each breath and all life and every circumstance. We just spend each day with Jordan blessed that we have that day. Every single day is a gift. We want to share our story, not for us to receive a hopeless "I'm sorry". We want to share our story so that when others face the impossible with no way to fight back, they too can find peace and comfort in God plan for them. That God is in control," says Jessica.
Saturday here at Sound Harley, we got to experience and show others that you don't have to do big things to make a difference in the world.

Sometimes all you have to do is ride your motorcycle really slowly around a building and you can change someone's life for forever.

We have started a gofundme fundraiser for JoJo and her family and would like to invite those of you who would like to help, to please visit her campaign HERE.

Currently her family lives in a 2 story home and as JoJo starts to lose more function in her body, she is unable to get up the stairs to her bedroom safely and has to crawl. In the future, she will need to live in a home with a single floor and with wheelchair access.

We would love to see the community come together and help them make this a reality for them.

We would also love to see enough raised to send the entire family to Disneyland so that they can all enjoy a trip together before JoJo is unable to experience that dream.

We have started the campaign off with a $5000 donation and hope that others will join us in helping to make sure that JoJo's journey in this life is as beautiful as possible.

Owner Scott shares, "Everyone has burdens in their lives, but this one that JoJo and her family are enduring is tragic. JoJo is a little angel and has really touched me and all of our staff at Sound Harley. I simply want to reach out and help them in their time of need. I wish I could buy them a miracle but you can't do that, so I will be saying my prayers instead."
We love you JoJo!

Want to keep updated on how JoJo is doing?
Make sure to subscribe to our newsletter!
We have some fun rides planned for 2019 to help raise funds for her family!